Services
Home • Services • Surgery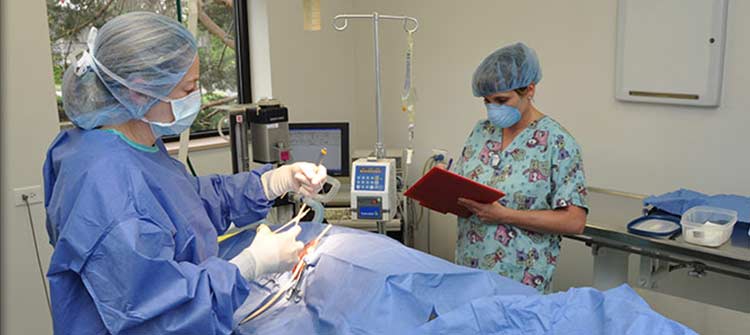 Surgical Services
Flossmoor Animal Hospital is equipped with state of the art surgical suites and trained veterinarians who perform a wide range of general surgical procedures. Our modern surgical suite is equipped with the latest patient monitoring equipment and fluid pumps.
Our veterinarians will carefully examine every pet prior to surgery. Anesthetic drugs are individually selected for the pet based on the procedure, their age, breed, and health status. We strongly recommend that every patient have pre-anesthetic blood tests to evaluate their internal organ function to ensure the pet is a good candidate for anesthesia.
Surgeries performed at our hospital include:
Spay
Neuter
Growth removal or tumor biopsy
Laceration repair
Urinary bladder surgery & stone removal
Abdominal exploratory surgery
Oral surgery (tooth extractions)
Cesarean section
Emergency surgery (e.g. foreign object retrieval, wound repair, others as needed)
During Surgery
We have protocols in place to make anesthesia and surgery safer for our patients:
Prior to induction of anesthesia, a catheter is placed in every patient. This allows us to administer warm IV fluids throughout anesthesia, which helps maintain patient hydration, and ideal blood volume. The catheter also ensures safety by providing immediate access in the unlikely event of an emergency situation.
Vital signs are taken on a regular basis using digital monitoring systems, and patients are closely monitored under anesthesia by a dedicated technician.
Our surgery table is heated to help patients maintain an ideal body temperature and additional safe warming devices are used following procedures to enable faster recovery from anesthesia to ensure greater comfort.
A comprehensive pain management plan is developed for every patient to keep them as comfortable as possible before, during, and after surgery.
After Surgery
We believe that it's important to keep a line of communication with you throughout the day of surgery. Our staff will ensure that we have the best contact information when you drop off your pet, and will keep you fully informed about your their surgery, progress, and recovery. If required, the comprehensive pain management plan may include pain medication to be administered at home to keep them as comfortable as possible at home. At the time of discharge, we will explain what you need to know to care for your pet at home.
Please call our office if you have any specific questions regarding hospital protocols or the procedures offered.