About us
Home • Services • Grooming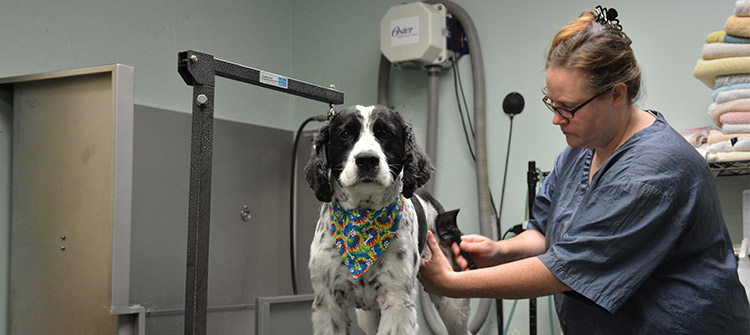 Grooming
Are you tired of wrestling with your pet when it's time for a bath? Are you nervous about hurting your pet when trimming their nails? Is regular brushing becoming a chore for you and your pet? Flossmoor Animal Hospital can help you take the stress out of grooming your pet. Our facility offers top of the line grooming services from our trained staff that have many years of experience grooming all breeds and sizes.
Grooming is also an important part of preventative care, ensuring that your pet stays at peak health. Having your dog or cat groomed at our clinic can be a first line of defense for spotting lumps, infections, or other abnormalities that can be difficult to notice. And your pet will look and smell better, too!
Overview of Our Grooming Services
We use only high quality, professional shampoos and conditioners.
We use heat censored dryers to keep pets safe.
Skin, ear, and other problems can be noted by the groomer and evaluated by our veterinarian during your visit.
We have medicated shampoo for relief from allergies, hot spots, dermatitis, and skin infections.
Grooming Vaccination Policy
All dogs must be current on their Distemper, Rabies, Bordetella and Canine Influenza vaccines.
All cats must be current on FVRCP and Rabies vaccines.
If your pet is not current on their vaccines, we recommend having them updated at least a week prior to bathing.
Our daily grooming services are available by appointment or during your pet's boarding visit. Please call our office today for more information or to schedule an appointment.